What's the best way to dispose of styrofoam when you're done with it?
The last time you got takeout or went through a restaurant drive thru, you probably wound up with polystyrene containers and cups leftover but you hate to throw them in the trash.
Styrofoam is actually a trademarked brand by The Dow Chemical Company and is closed-cell extruded polystyrene foam (XPS) . Expanded Polystyrene Foam (EPS) is different and is what is used for food and beverage containers. Here, I'm going to refer to it all as styrofoam simply because that's the common reference.
It's shocking but Americans throw away 25 Billion foam cups per year. That's insane when you think about it.
Every day 1,369 tons of styrofoam is thrown away, say what!?!
So after you're done, how should you dispose of styrofoam containers?
RELATED: How to Dine Out Waste Free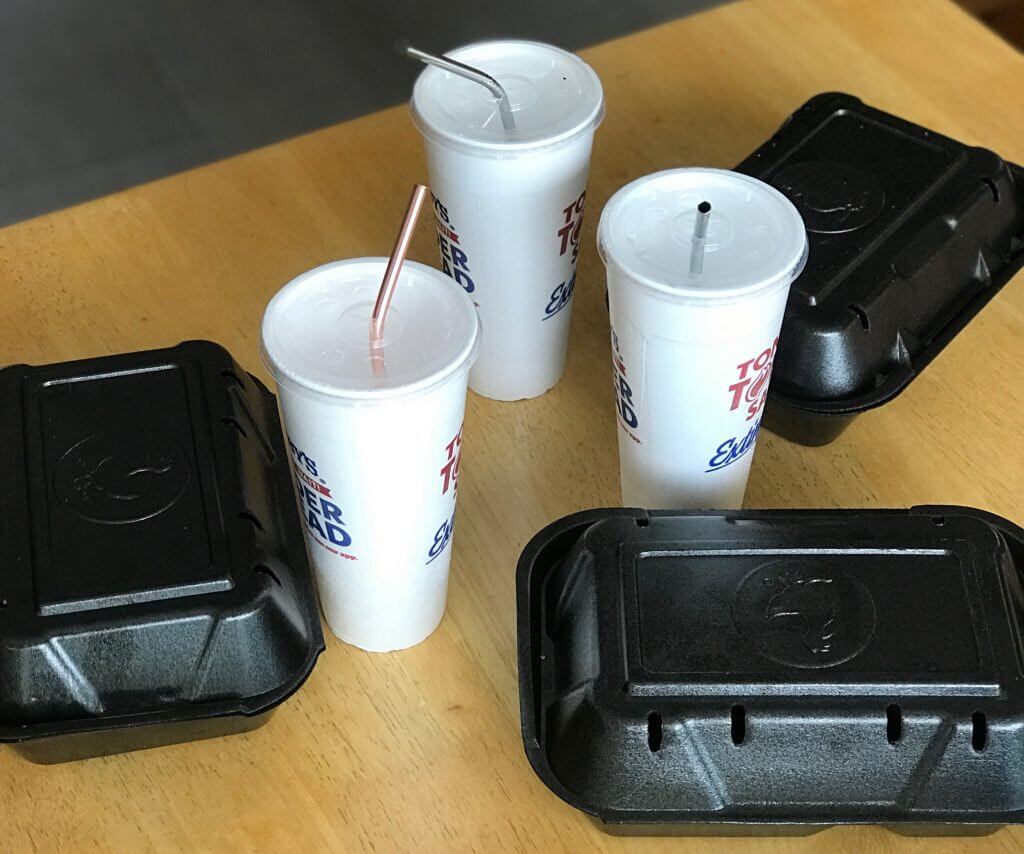 Where to Dispose of Styrofoam
Can it be recycled? Does it go in the trash? What are my options?
Can I put styrofoam in the recycling bin?
Basically, the answer is no. There may be a few places in this country where curbside haulers will pick it up but it's safe to assume no.
Why Is Styrofoam Not Recyclable
Styrofoam is a mixture of petroleum and chemicals. While it has a #6 recycling symbol on the bottom, that doesn't mean it's recyclable through your curbside hauler or even your local recycling center.
#6 covers both extruded polystyrene and expanded polystyrene. Expanded polystyrene is an end form and you can't un-expand the the plastic resin.
Can I put styrofoam in the trash?
The short answer is yes, you can put styrofoam in the trash but should you? Styrofoam is very lightweight, in fact its 95% air, but takes up a lot of space in a landfill. So even though the answer is you could, that doesn't mean you should.
EPS (Expanded Polystyrene Foam) is made with styrene, a chemical that has been flagged as a possible carcinogen by the National Toxicology Program. If you dump them in the trash, the styrene could leach out and have detrimental effects on our ecosystems.
So if you shouldn't put it in the trash and most curbside haulers don't accept it in the recycling bin, how should you dispose of styrofoam?
Where to Recycle Styrofoam
There are many facilities where you can drop off styrofoam, you jut have to find them.
Some grocery stores, like Publix, have a styrofoam collection receptacle where you can deposit things like cups, meat trays and food take out containers. Just make sure you prepare them properly.
For packing peanuts, you can usually take those to a mailing center like UPS or PakMail. Call ahead to double-check. Just make sure you pull out a few to use as toe separators for your next at-home pedicure!
Earth911 maintains a database for all sorts of items, polystyrene included.
EPS Industry Alliance has information detailing where you can mail it (you'll incur the cost) to be recycled. This website has all sorts of information about the environmental impacts of foam but keep in mind, they have a business interest.
Foam Facts has all sorts of information about polystyrene as well as where you can recycle it. This website has all sorts of information about the environmental impacts of foam as well as its healthy and safety but keep in mind, they have a business interest.
Rather than dispose of styrofoam, why not reuse it around your house?
Reuse Styrofoam in the Garden
If you've ever looked at purchasing any large potting planters, you know there's no way you could move that thing once you fill it with dirt. Break up some styrofoam or use some packing peanuts to fill up some of the space. Not only will it save you money, it'll also improve the drainage.
Make a container out of an old styrofoam cooler. Look how cute this turned out…drilled a few holes in the bottom for drainage, spray painted it with some leftover paint, added dirt and a few plants and it's so cute! Now if I can keep it alive.
Another option with foam coolers is to check with any local pharmacies in your area to see if they could reuse them. Recently I saw a Facebook post from a local compounding pharmacy asking for foam coolers for reuse so they could keep them out of landfills and use them for their own needs.
Styrofoam cups make a great container for starting non-edible seedlings. Just poke a few holes in the bottom to allow for drainage and get those seeds started before transplanting to your garden.
Reuse Styrofoam for Craft Projects
I have been known to store the styrofoam that has been used in packaging simply because I can't bring myself to throw it away but I never knew what to do with it.
My son likes to follow tutorials he finds on YouTube to make all kinds of 'weapons' (don't worry, he's not whittling switchblades in the basement) to play with. He's used much of the packing styrofoam I've 'saved for a rainy day' so that does my eco friendly heart good.
My basement is an absolute disaster but I'll take the casualty if he's creating things from materials we have laying around the house.
Styrofoam can be used in all sorts of stage props. Check with the art or theater department at your local schools to see if they have a need.
Styrofoam is also super handy if you need to make a diorama or model of something.
If you or your kids paint, the foam meat trays make a great resting spot for paint brushes or mixing different paint colors. Once you're done, it's easy enough to wash and then use again.
You can go onto Pinterest or YouTube and find any number of crafting projects to make use of that packing styrofoam. If your kids are old enough and love a good STEAM project, I bet they could make all sorts of things from styrofoam containers.
I know sometimes convenience is just easier and there are times when refusing is just not possible but when you can, bring your own and refuse single use styrofoam.
RELATED: Just Say No – Refuse and Reduce.
Do you have other tips for disposing of styrofoam? Share them in the comments below, I'm always looking for new ideas.
Make it a green day!
Sources:
Recycling Mystery: Expanded Polystyrene