Dye Free Candy For Holidays
Aren't holidays the best, especially when you have kids? Every time you turn around, your kid is either asking for candy or showing you the latest treat given to him or her from school, church, neighbor, friend, basically anywhere you go.
If you're anything like me, all you can think of is their teeth are going to rot out and they'll be bouncing off the walls in no time.
It seems like we just move from one holiday full of colorful candy to another. From Halloween through to Valentine's Day, there is no shortage of holiday candy lining the store shelves. We get a short break until Easter, then a break for summer and the cycle starts over again. Am I right!?!
RELATED: Confessions from THAT Mom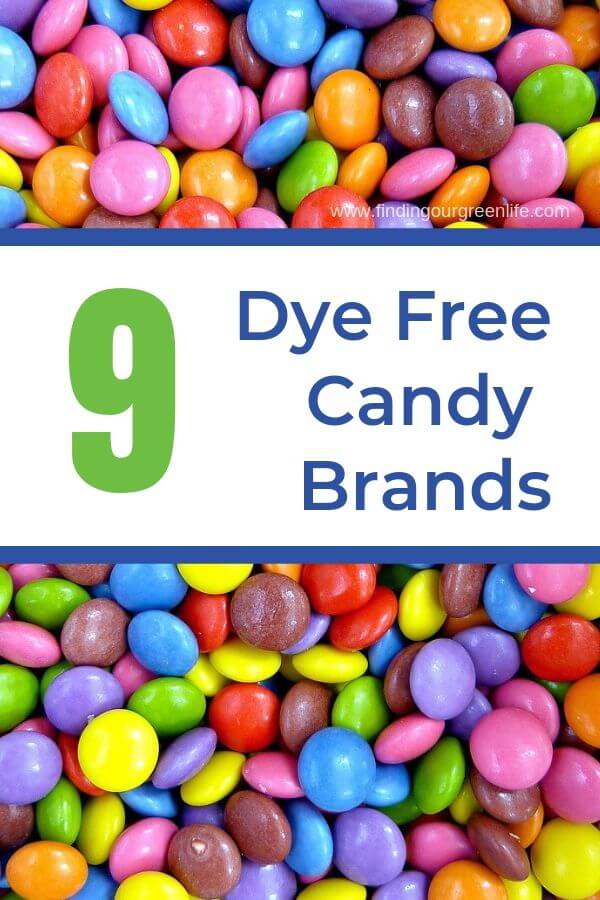 What are the Dye Free Candy Options?
Disclaimer: This post contains affiliate links. Any purchase you make by clicking these links will earn me a commission but will not cost you anything extra. Please see my Disclosure page for more details.
Dye Free Fruit Candies
You can have all the sugary goodness without the side of chemicals. It's true I promise!
My kids and I have tried all of these and they are all really good. If you're looking to hand these candies out to a large crowd, i.e. Halloween, you might want to look for the snack packs or you're going to need a second mortgage on the house.
I chose to include products that are reasonably easy to find in most major grocery stores, Target, Walmart, etc. Of course, you can always shop Amazon right now, from the comfort of your own home.
Surf Sweets
Surf Sweets has all things gummy and jelly like. They have gummy worms, gummy fish, gummy rings, jelly beans. Several of the gummies are Certified Organic and NonGMO.
Black Forest
Black Forest is another option for gummy candy. The gummies are Certified Organic. These come in larger sizes so may be a bit more cost friendly.
YumEarth
YumEarth has Certified Organic and NonGMO lollipops galore in all sorts of yummy flavors. They also have gummies and fruit snacks that are Certified Organic and NonGMO.
Torie & Howard
Torie & Howard makes fruit chews in some pretty awesome flavor combinations. They are a healthier alternative to Starburst. Torie & Howard also makes hard candies in some yummy flavor combinations as well. They are all Certified Organic and NonGMO.
Dye Free Candy Coated Chocolate
Chocolate candy doesn't typically have artificial food coloring in it, unless its a candy coated chocolate. Honestly though, I'm not a big fan of the High Fructose Corn Syrup either and these brands leave that out.
Unreal Candy
Unreal Candy makes not only candy bars, which don't tend to have artificial food coloring in them but also colorful dye free candy coated chocolate, which are a great substitute for M&M's. They also make peanut butter cups, yummy! All are Fair Trade Certified, most are NonGMO.
Justin's Candy
Justin's makes not only peanut butter, cashew butter and almond butter but hey, they also make peanut butter and mini peanut butter cups. They are Certified Organic and Rainforest Alliance certified. I'm not the biggest fan of their almond butter but their peanut butter cups and mini peanut butter cups are simply divine. Justin's was the first 'fake Reese's' that I tried and it's much better tasting than Reese's. I would have never thought that was possible.
OCHO Candy
If you haven't tried any of the OCHO candy bars, you are seriously missing out. They offer regular size candy bars and snack size in a variety of flavors to choose from
caramel
caramel peanut
coconut
dark caramel
peppermint
dark peanut butter
peanut butter
pb&j.
They are Certified Organic. They also do fun holiday themed chocolates in shapes like Easter eggs and Halloween pumpkins and Christmas trees.
Dye Free Caramel Candy
When it comes to caramels, most plain old caramels don't have artificial coloring in them but there is at least one (Brach's Milk Mail Royals which have been known to show up in my kiddo's halloween candy bucket) that does. These two do not.
Lovely Candies
Lovely Caramels were the first caramel I came across and they are good! I notice they have more in their product line.
hard candies
lollipops
gummies
fruit chews (alternative to the flavored Tootsie Rolls)
hula chews (alternative to Tootsie Rolls)
fruit snacks
The caramels, fruit chews, and hula chews are NonGMO and their hard candies and lollipops are Certified Organic.
Cocomels Candies
Cocomels are coconut milk caramels. My kids and I were given a pack of their Coconut Sugar Cocomels to try. One kid gave a thumbs up, the other was done at one. They have a variety of flavors and an assortment of products to choose from:
coconut milk caramels
chocolate covered cocomels
chocolate covered cocomel bites
Cocomels are Certified Organic and NonGMO.
As I mentioned earlier, chemical free candy isn't cheap. Poisoning your family is.
I have purchased all the brands listed at one time or another and all are kid approved.
So what do I do with all the candy that comes home during the holidays? Well, thankfully we are finally out of elementary school so that headache is somewhat past me but I do keep these candies on hand to swap out when my kids bring home brands that I consider to be chemical junk.
Halloween is a slightly different story. I trade cash for the candy they get from trick or treating and give them some of the candies listed above so my kids aren't deprived.
No, I don't eat the chemical junk candy. We take it to the dentist to buy back or participate in a 'send to the troops' drive or do science experiments with it (check out Pinterest for some ideas).
Have you tried any of these brands? Comment below with your favorite or let me know which one you'll try first!
Make it a green day!